From Our Clients
Duko and Ziko
Military Working Dogs from Fort McPherson / Fort Gillem

Duko was an 8 year old Belgian Malinois. He served in Iraq before going to Fort McPherson and Fort Gillem. He was diagnosed in 2009 with a condition called spondylosis with compression of the spinal cord at the T12-L1 vertebra, degenerative joint disease (DJD) of the spine and hips. He came to Loving Touch due to hind end weakness that was keeping him from jumping up into the work vehicle, going into higher places for searches and fatiguing easily.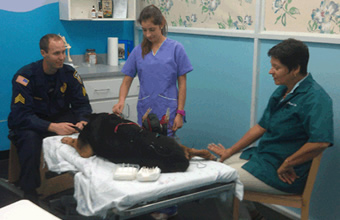 During his treatment which included acupuncture and physical rehabilitation, Duko's handler, Sgt. Martin reported that Duko seemed more comfortable, was willing to work longer on tasks involving searches that made him go higher up. Duko also began to occasionally jump into the work vehicle without assistance.

Due to the progressive nature of spondylosis, Duko was eventually retired and went to live with one of his previous handlers that he knew from his time in Iraq.

Ziko was a 7 year old long-haired German Shepherd Dog. He also served in Iraq before going to Fort McPherson and Fort Gillem. In January 2009, Ziko had spinal surgery (Laminectomy) involving the vertebra from L6-S1. He came to Loving Touch with intermittent right hind lameness, particularly following attack work and obstacle course performance.

Ziko also had acupuncture and physical rehabilitation. His handler, Lt. Campbell reported that as treatment continued Ziko had fewer and fewer instances of lameness. When the kennel was closed at the Fort, Ziko went to work for the Fulton County Sheriff's department.

Both dogs passed a vigorous re-certification for their work while under Loving Touch's care.

We were proud and honored to have had the opportunity to work on these two great dogs. They were both sweethearts and a joy to work with.